Back to main Blog

Pure Ratios
Founded by 2 natural health practitioners with over 45 years of combined hands-on experience, Pure Ratios' origins are rooted in natural medicine. We take an herbalist's approach to empower balance in the body through a combination of 5,000 years of plant medicine and the latest scientific research & development.
The low-down on how to take advantage of one of our favorite ways to take hemp extract: transdermal skin patches.
Did you know that we can trace the use of healing with skin patches all the way back to 2000 BCE China? Back then poultices of medicinal herbs were mixed with gum rubber adhesives, applied to paper or fabric backing, and affixed to skin to reported great effect. With origins so grounded in thousands of years of herbal medicine, embracing transdermal hemp extract patches is only natural for us here at Pure Ratios--and the more you know about how they work and how to use them, the more that makes sense.
To be sure you're using your transdermal reservoir hemp extract patch correctly, you want to follow the steps below. Remember that if you're using a Pure Ratios 96 Hour Patch, it is designed to work for up to 96 hours and is also waterproof, but it's not meant for prolonged exposure to saltwater or chlorine.
Transdermal Patch Application in 3 Easy Steps:
Clean skin with alcohol swab and let dry.
Apply patch on or close to the area of discomfort.
Patch adheres best to an area with minimal hair and flexion. If the area in need is near a bendy part like an elbow or knee, just apply it above or below that, where there is less movement--don't worry, you don't have to be exact for it to begin to work quickly!
In accordance with FDA guidelines, Pure Ratios is unable to and does not make any medical claims about our products. But here's what our customers tell us about our patches: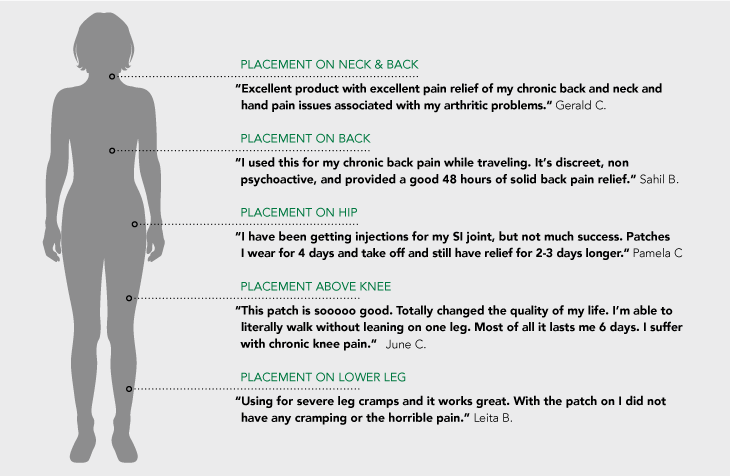 Where To Apply Your Transdermal Patch
You want to place the patch as close as possible to the area of discomfort so it can get right to work, but if that area has a lot of hair, is a joint, or is not a place it can stick to very easily you can simply place it close to the area and know that it will still work. If the area of discomfort is very broad, consider using two patches, or in especially large areas try a transdermal roll-on for increased coverage.
If using a transdermal hemp extract patch for overall mood or sleep enhancement, you can apply it anywhere due to its transdermal properties. However, thinner skinned areas, like the tops of hands and inner forearm, can help you begin to absorb the hemp extract dosage more quickly.
That's it! You can now go about your life knowing that there's nothing more to do to get a consistent dose of cannabinoids available to your system for the life of the patch, and enjoy the more empowered balance this brings.
For more information on Pure Ratios 96 Hour Transdermal Patches or about our hemp extract wellness products in general, please visit us at pureratioscbd.com